Dive Zanzibar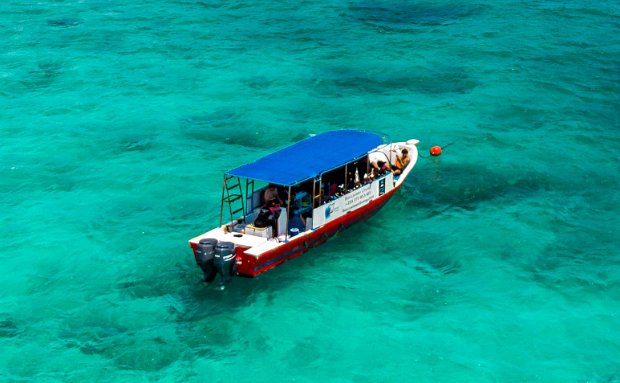 We offer a selection of 20+ local dive sites for all experiences, levels and tastes.
These vary from inner-lagoon dives, sloping outer-reef dives, and wall dives. Although all of our sites are fascinating, we do have some that are better in certain seasons. Some of these are further afield and some require diving experience of an advanced level. All of our dives are drift dives with a boat following the dive group for support.
We dive in small groups and offer a full gear set up service, which means you just need to collect your mask, fins and wetsuit and stroll down to the boat that will be waiting with your gear set up and ready for you to go diving. Gear is then washed for you after your dive. Luxury in paradise....
Our Lagoon
There are three dive sites within the reef just 15 minutes boat ride from our base in Paje and Jambiani. Because the lagoon is within the barrier reef it is protected from the outside elements, creating calmer conditions for both marine life and divers! The depth ranges from 6m to 22m.
Lagoon Mounding offers a beautiful inner reef with varied marine life and a stunning coral landscape. Common sightings include nudibranchs, leaf fish, snake eels, pipefish, and batfish, scorpionfish, puffers and trumpet fish.
Stingray City offers us diving which we tend to conduct around the main channel of the lagoon where the chances are high to see dozens of Blue Spotted Stingrays, the dive continues to the Eastern reef to dive amongst the large coral formations.
Jambiani Lagoon is home to our seahorses, typically found over the sandy and seagrass areas, the dive continues to the far side of the Eastern reef where we often spot frog fish, leaf fish and even harlequin shrimp.
Our Outer Reef
Dive boats in the South East region of Zanzibar access the outside reef sites through gaps in the barrier reef called 'Mlango' (Swahili for door). The mlango we usually use to get outside the reef is located by the lagoon, about 15 minutes boat ride from our Paje dive base.
The sites as listed below are between 5 – 20 minutes from the mlango and are all ran as drift dives. Fish life outside the reef includes napoleon fish, groupers, morays, turtles, lobsters, octopus, ribbon eels, stingrays and much more. We sometimes have dolphins, kingfish, and barracuda too. The current outside will take us north or south so usually you can enjoy a leisurely dive over the gardens and alongside the walls.
Cement Wall (12 – 35m) is named after a ship that in the 1930's lost its cargo of cement, here we still find 3 enormous anchors during the dives, one of which is set in front of a small cave, in addition to spectacular colors and rich marine life among which ribbon eels. Either we dive across the garden or alongside the wall, making it suitable for all levels of divers.
Sau Inn Garden (6 – 20m) is a stunningly beautiful garden of assorted corals with amazing colors and a plentitude of micro life and fish. Keep your eye out for leaf fish and ribbon eel.
The Big Cave (12 – 25m) is actually a very tiny cave at around 25m. In addition to the previous mentioned species you're also likely to find large moray eels, groupers and large lobsters. The site has beautiful coral with plenty of fish.
Barracuda Point (10-20m) offers a vast coral garden with mounds and overhangs that shelter a variety of shellfish and some of our shyer reef fish. The dive starts with a drop onto a bed and follows a slope to around 20m.
Powoni North, Powoni Hill and Powoni South (12-30m) are three dive sites within 20 minutes of our base with particularly magnificent table corals, normal crowded, among other species, by sweet lips and unicorn fish, keep an eye out on the blue for the occasional pelagic.
Powoni Cave (15-30m) is a gentle slope full of corals with a stunning overhang, among other species a lot of moray eels can be found here.
Napoleon Wall (12-35m) has a spectacular drop off and has its name from the resident napoleon wrasse that lives here. In addition to stunning soft and hard corals you will find a wide number of species among which various moray eels.
Giant Grouper Wall (12-28m) is a fantastic wall dive during which we can see a lot of groupers, in particular, potato groupers and with some luck we'll spot some pelagics out in the blue too.
See the rest of Zanzibar
We also run day trips to the Mnemba Atoll, a private marine reserve, which is located two hours north of our Centre. Here our expert guides load our own equipment on to local boats before we make a short trip to the atoll and its stunning coral reefs.
Snorkeling
We offer two options for snorkelling.
The full day trip to Mnemba atoll is not to be missed. Trip includes light breakfast, transfers, lunch, marine park fees and of course guided snorkelling. If you have less time we recommend the snorkel trip to the blue lagoon in Dongwe. Trip includes transfers, guided snorkelling as well as fruit and snacks. On both trips you can expect to see a vibrant coral reef packed with colours and a huge variety of tropical fish.
FREE TRANSFERS IN THE PAJE / BWEJUU AND JAMBIANI AREAS. VERY REASONABLE CHARGES FOR FURTHER AFIELD.
Please contact us if you would like to know more about our pickup services.